Self-adhesive Smart Film
Self-adhesive smart film is made of surface protective film,ITO film and liquid crystal polymer ,Self-adhesive smart film has the same performance function with smart glass ,can through the power supply voltage regulation to control ,let the glass becomes opaque to transparent, it is transparent when power on and when power off it becomes opaque.it can provide the best solution or some already installed ordinary glass or ordinary glass projection project . Don't need to replace the full set of glass facilities, can be directly stick on the clean glass surface.
Description
Technical Parameters
Specifications
Application
Method: the usage of self-adhesive smart film is very simple, you just need stick it on the glass.
Smart film is also named liquid crystal film ,the scientific name is polymer-dispersed liquid crystal film ,it is based on liquid crystal material "light valve" characteristics of the liquid crystal film.when the liquid crystal of the film droplets is in the applied electric field,according to the sequence distribution, , the film becomes colorless and transparent when the incident light is completely through ,When the applied electric field disappears, liquid crystal droplets arrangement distribution sequence is disrupted, so that the incident light is scattered . It will generate milky "ground glass" effect.The smart film with the characteristics make glass becomes transparent to opaque to achieve the permeability of the glass and the protection of privacy. Even if opaque, the lighting is still very good,interior light is very comfortable .makes indoor warm in winter and cool in summer, environmental protection and energy saving.
The smart film is injecting liquid crystal in the middle of the two transparent conductive film ITO-PET / polymer composite material. in the case of no electric field ,it is in opaque state ,When the AC pass into the liquid crystal molecules to achieve an orderly arrangement, thereby making smart film is in a transparent state


The tune Guangmo following diagram displays: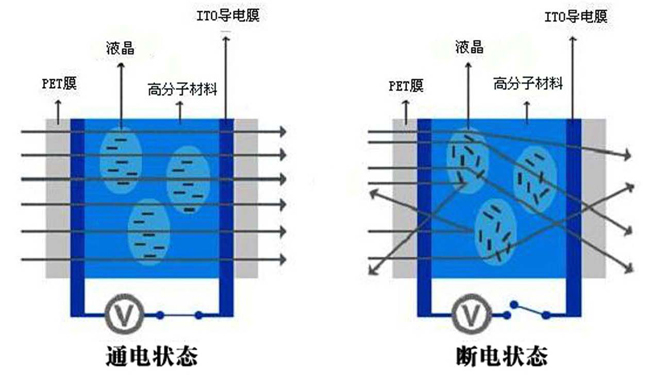 Along with the power supply from off to on, under the effect of electric field ,smart film will become opaque to transparent instantly ,it is a very intelligent products.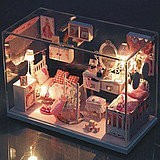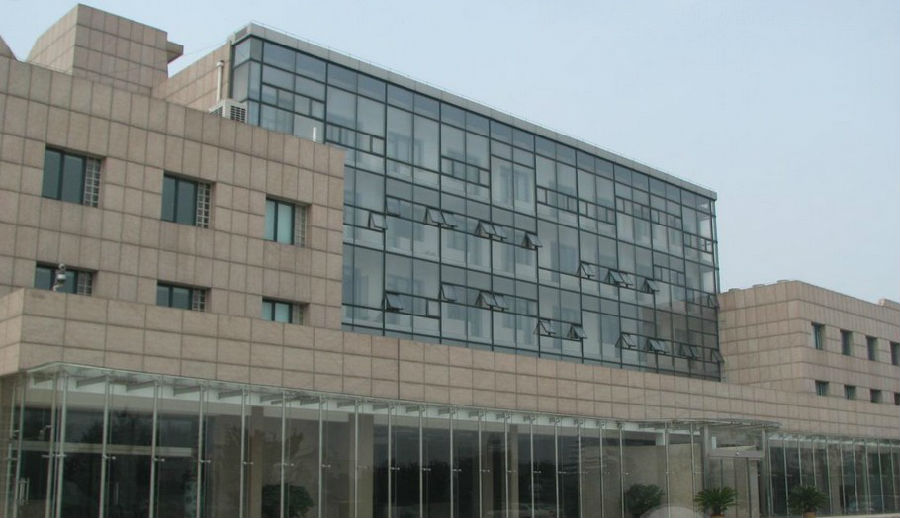 Optical Properties
Parallel Light Transmission
ON
> 81%
OFF
< 10%
Visible Light Transmission
ON
> 80%
OFF
< 5%
Visual Angle
ON
150℃
UV Blocking
ON/OFF
> 99%
Electrical Properties
Voltage
ON
48V AC
Frequency
ON
50-60HZ
Current
ON
2mA/㎡
Power Consumption
ON
8 W/㎡/hour
Switching Time
ON-->OFF
0.002 second
OFF-->ON
0.01 second
Other Index
Working Temperature
–30~80 ℃
Life Time
> 500000 hours
Thickness :0.4mm
Maximum size :1524mm*3048mm
Color: transparent ,milky white, gray.
Self-adhesive smart film as a intermediate material ,its application field is also quite widespread ,it need to combined with glass, acrylic board transparent material, and then install to the relevant places.
widely used for shower room, partition, door, window, projection screen, etc.
Online message
| | |
| --- | --- |
| Name: | * |
| Tel: | * |
| Remarks: | |
| Captcha: | * |
| | |